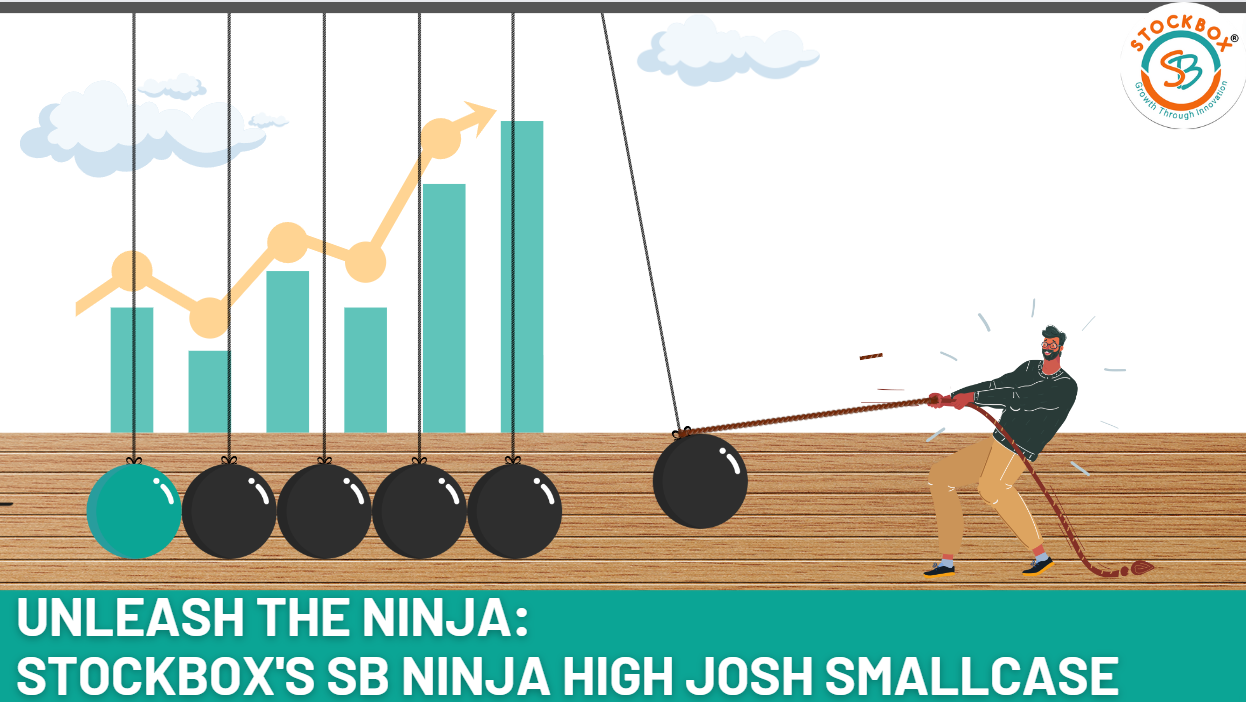 Are you ready to turbocharge your investment portfolio? If you're seeking a unique and dynamic approach to stock market investments, Stockbox has the answer for you – the SB Ninja High Josh Smallcase. Designed to capture high momentum stocks and deliver consistent returns, this smallcase is your ticket to a more exhilarating investment journey.
The Power of Momentum Investing
Momentum investing is all about riding the waves of success in the stock market. The SB Ninja High Josh Smallcase takes this strategy to the next level. Each month, on the 1st trading day, we evaluate the performance of the stocks in the portfolio. The laggards are unceremoniously shown the door, while new high-performing stocks are invited to join the party. This relentless pursuit of the best momentum stocks ensures that you are always in the fast lane of the market.
Why SB Ninja High Josh Smallcase?
1. Momentum Unleashed: We understand the importance of staying ahead in the market. Our unique smallcase is designed to capture stocks with high momentum. These are the companies that are on the move, showing strong upward trends and outperforming their peers. With SB Ninja High Josh, you can invest in the companies with the wind at their backs.
2. Monthly Rebalancing: The smallcase is not a one-time affair. We don't believe in a set-it-and-forget-it approach. Monthly rebalancing ensures that your portfolio is always aligned with the current market trends. You won't be stuck with underperforming stocks, and you won't miss out on the next big movers.
3. Risk Management: While we chase high momentum, we also believe in responsible investing. Our team carefully evaluates each stock to ensure that it meets our risk criteria. This approach strikes a balance between high growth potential and risk management.
4. The Stockbox Advantage: As a leading investment platform, Stockbox provides a seamless and user-friendly experience. You can access your SB Ninja High Josh Smallcase with a few clicks, monitor its performance, and make informed decisions based on real-time data.
The Performance You Deserve
Performance speaks louder than words, and SB Ninja High Josh has delivered impressive results. Our rigorous screening process ensures that you are always invested in the top-performing stocks of the moment. This approach has consistently outperformed market benchmarks, making it an attractive option for both seasoned and new investors.
A Few Key Highlights:
Superior returns compared to market indices.
Reduced risk through monthly rebalancing.
Access to high momentum stocks that can fuel your portfolio's growth.
Join the Ninja Revolution Today
Investing doesn't have to be a dull, passive activity. With SB Ninja High Josh Smallcase from Stockbox, you can embrace the excitement of momentum investing without compromising on risk management. It's your opportunity to be part of a dynamic and profitable journey.
At Stockbox, we're committed to bringing you innovative investment options that align with your financial goals and risk tolerance. The SB Ninja High Josh Smallcase is just one example of our dedication to delivering value to our users.
Join the Ninja revolution and take your investments to the next level. Invest in high momentum, stay ahead of the game, and watch your portfolio soar. The SB Ninja High Josh Smallcase is your gateway to a high-octane investment experience.
Invest with Stockbox today, and let the Ninjas work their magic on your portfolio.