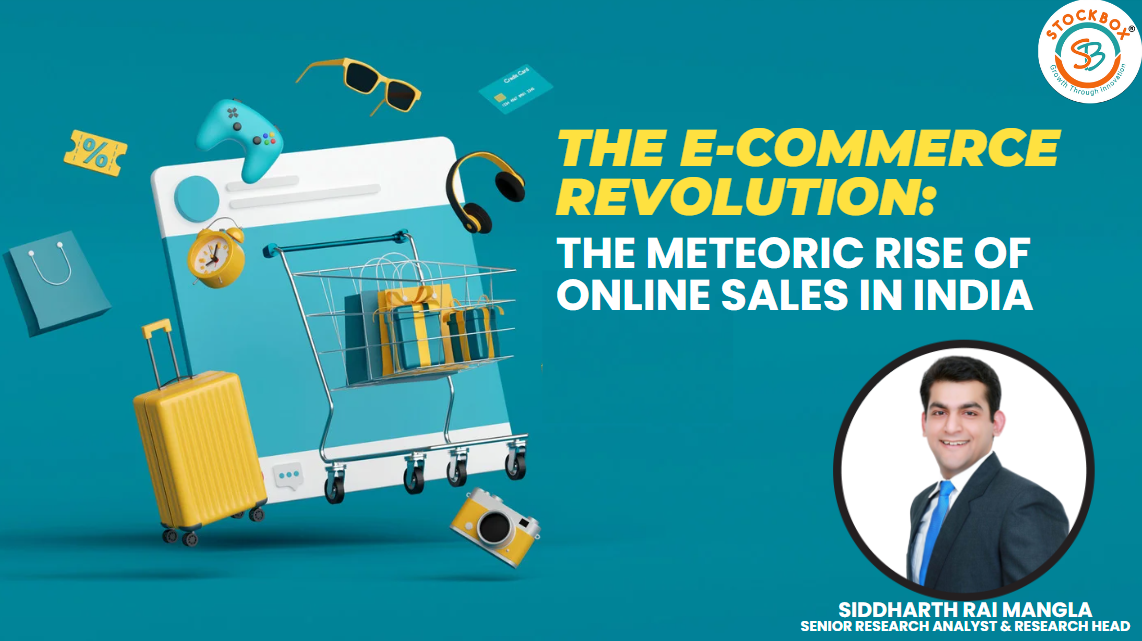 In recent years, India has witnessed a seismic shift in the way people shop, driven by technological advancements, changing consumer preferences, and the digital revolution. The e-commerce industry in India has experienced unprecedented growth, marking a remarkable transformation in the country's retail landscape. This blog explores the factors contributing to the meteoric rise of e-commerce sales in India.
Digital Transformation: The rapid proliferation of smartphones and the availability of affordable data plans have ushered in an era of digital transformation. With over 700 million internet users and counting, India boasts one of the world's largest and most connected online populations. This digital boom has paved the way for e-commerce companies to reach a vast audience.
Convenience: E-commerce offers a level of convenience that traditional retail simply can't match. The ability to shop from the comfort of one's home, 24/7 availability, and the option for doorstep delivery are some of the key factors driving e-commerce sales in India. This convenience is especially appealing in a country as diverse and vast as India, where brick-and-mortar stores may not always be readily accessible.
Expanding Product Range: E-commerce platforms in India have expanded their product offerings to cater to a wide range of consumer needs. From groceries and fashion to electronics and even services, e-commerce has diversified its portfolio to become a one-stop shop for everything a consumer might need. This diversification has contributed to increased consumer loyalty and higher sales.
Discounts and Deals: E-commerce platforms often offer discounts, deals, and cashback offers, making shopping more cost-effective for consumers. These promotions attract price-sensitive shoppers and have become a hallmark of e-commerce in India. Buyers actively seek out sales events such as the Big Billion Days and Great Indian Festival.
Payment Innovations: The introduction of innovative payment methods, such as digital wallets and buy-now-pay-later options, has simplified transactions and boosted consumer trust. This has been instrumental in persuading even traditionally skeptical customers to embrace online shopping.
Marketplaces and Local Sellers: E-commerce platforms have been quick to onboard local sellers and artisans, allowing them to reach a broader audience. This is particularly beneficial for India, with its rich tradition of craftsmanship and local products. The growth of marketplaces like Flipkart, Amazon, and Snapdeal has provided a platform for small businesses and individual entrepreneurs to thrive.
Logistics and Delivery Improvements: E-commerce companies have invested heavily in building efficient logistics and delivery networks, even in remote areas. The promise of timely deliveries, easy returns, and tracking options has bolstered consumer confidence in online shopping.
Changing Consumer Behavior: As consumers increasingly lead busy lives, online shopping has become a time-saving and efficient solution. The COVID-19 pandemic accelerated the adoption of e-commerce, with many consumers trying online shopping for the first time during lockdowns and subsequently sticking with it.
Personalization and AI: E-commerce companies use advanced algorithms and artificial intelligence to offer personalized recommendations, improving the overall shopping experience. This not only encourages more purchases but also keeps customers engaged.
Trust and Security: As online security measures have improved, consumers in India have grown more comfortable with making digital transactions. Trust-building strategies employed by e-commerce companies, including customer reviews and robust return policies, have played a significant role in enhancing consumer confidence.
The remarkable rise in e-commerce sales in India is undoubtedly a game-changer for the retail industry. It represents not only a shift in shopping behavior but also an incredible opportunity for businesses to connect with a vast and diverse consumer base. As technology continues to evolve and e-commerce platforms innovate, the trajectory of this trend is likely to remain on an upward trajectory, shaping the future of retail in India.
In conclusion, the meteoric rise of e-commerce sales in India can be attributed to a combination of technological advancements, changing consumer behavior, and an increasingly digital-savvy population. The convenience, affordability, and diverse product offerings of e-commerce platforms have made them an integral part of the Indian retail landscape. As the industry continues to evolve, it's poised to reach even greater heights, offering a world of possibilities for both consumers and businesses alike.